Patricia "Patti" Smith is a singer, songwriter, poet, and artist. She has even been referred to as the "Godmother of Punk." Smith was born in Chicago, though her family moved to New Jersey. She eventually made her way to New York; had relationships with photographer Robert Mapplethorpe, Blue Öyster Cult keyboardist Allen Lanier, and Fred "Sonic" Smith whom she married and had two children with; and formed The Patti Smith Group.
The Patti Smith Group was signed by Clive Davis to Arista Records and in 1975 released their first album, Horses; a fusion of punk rock and spoken word poetry.  The album cover is a photograph of Patti Smith that was taken by Mapplethorpe, and is highly regarded as one of the classic album covers of rock music.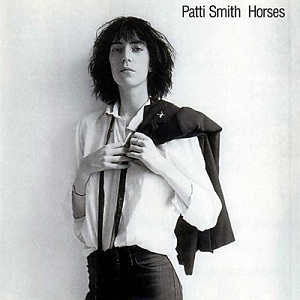 wikipedia.org
In 1978 The Patti Smith group released their third album Easter featuring the song "Because the Night" which was co-written by Bruce Springsteen. "Because the Night" was the band's most commercially successful song, making its way to number 13 on the Billboard Hot 100 chart.

Patti Smith performing "Because the Night" at Riot Fest in Chicago on September 14th, 2014.
In 2005  the French Ministry of Culture named Patti Smith a Commander of the Ordre des Arts et des Lettres (Order of Arts and Letters), and in 2007 she was inducted into Rock and Roll Hall of Fame.
So, who is Patti Smith? She's a legend.
All information is derived from the Patti Smith Wikipedia page unless otherwise linked.